World of Coca-Cola: Scent Discovery
World of Coca-Cola
Revealing the Powerful Connection Between Scent and Sentiment
Overview
Each year, over a million people visit the World of Coca-Cola. Our team was tasked with re-envisioning a Scent Discovery experience that could offer visitors excitement and engagement without unwelcoming queues or overcrowding. In response, our team analyzed existing visitor flow, experiential pain-points, and developed a design approach that deeply considered how each beat of the experience could pulse visitors through the space at a consistent and intuitive pace.  The new Scent Discovery Experience at the World of Coca-Cola takes each visitor on an exploration of Coca-Cola's brand history and human memory, transforming an existing 1,000 square foot space into a stimulating journey where scent becomes the vehicle for visitors to unlock personal memories, create new ones, and broaden their understanding of Cola-Cola's unparalleled past, present, and future. 
Partners
Sonic Union, Scholar, Solomon Group
Services
Concept Design, Design Development, Media Design, Media Production, Physical Design
The Details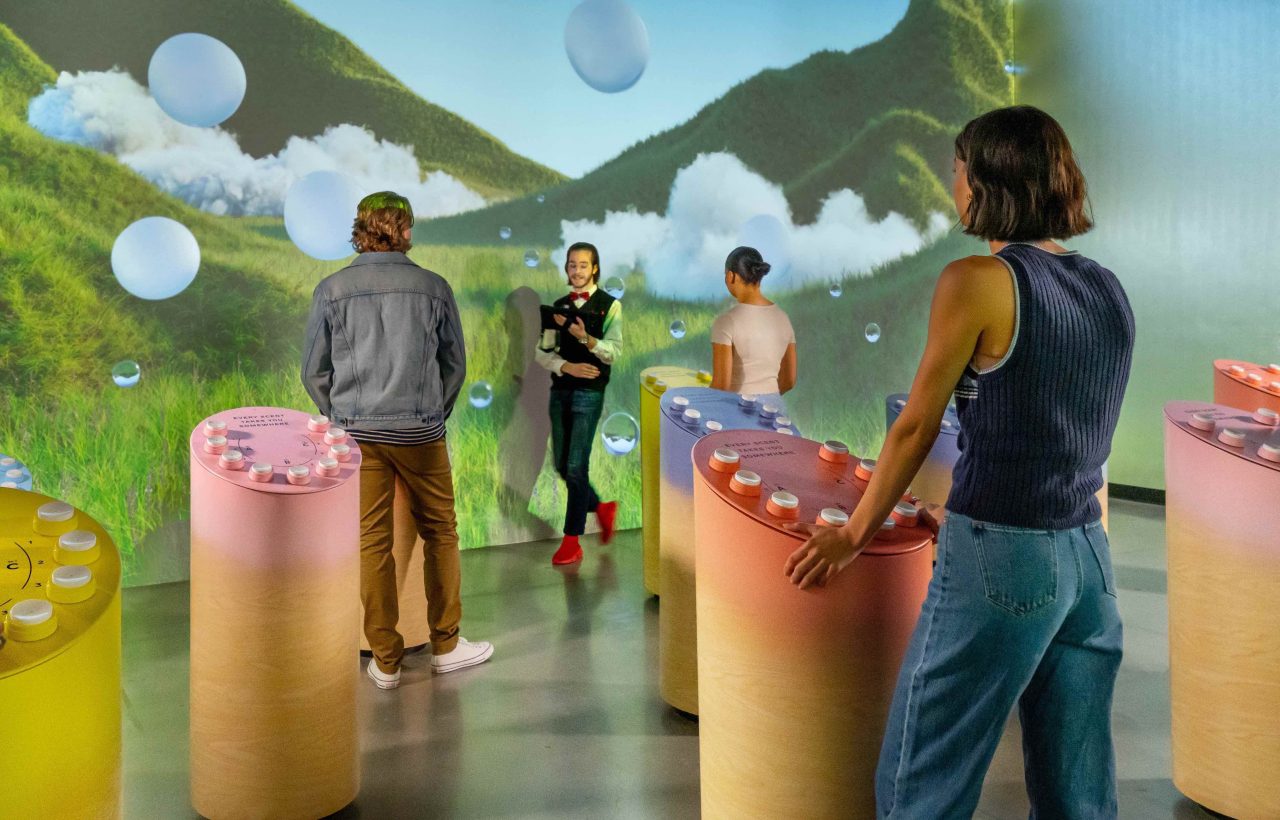 Our interactive Scent Library and Scent Discovery game goes beyond scent trivia to harness the power of immersive visuals, game mechanics, and friendly competition to engage visitors of all ages and mindsets.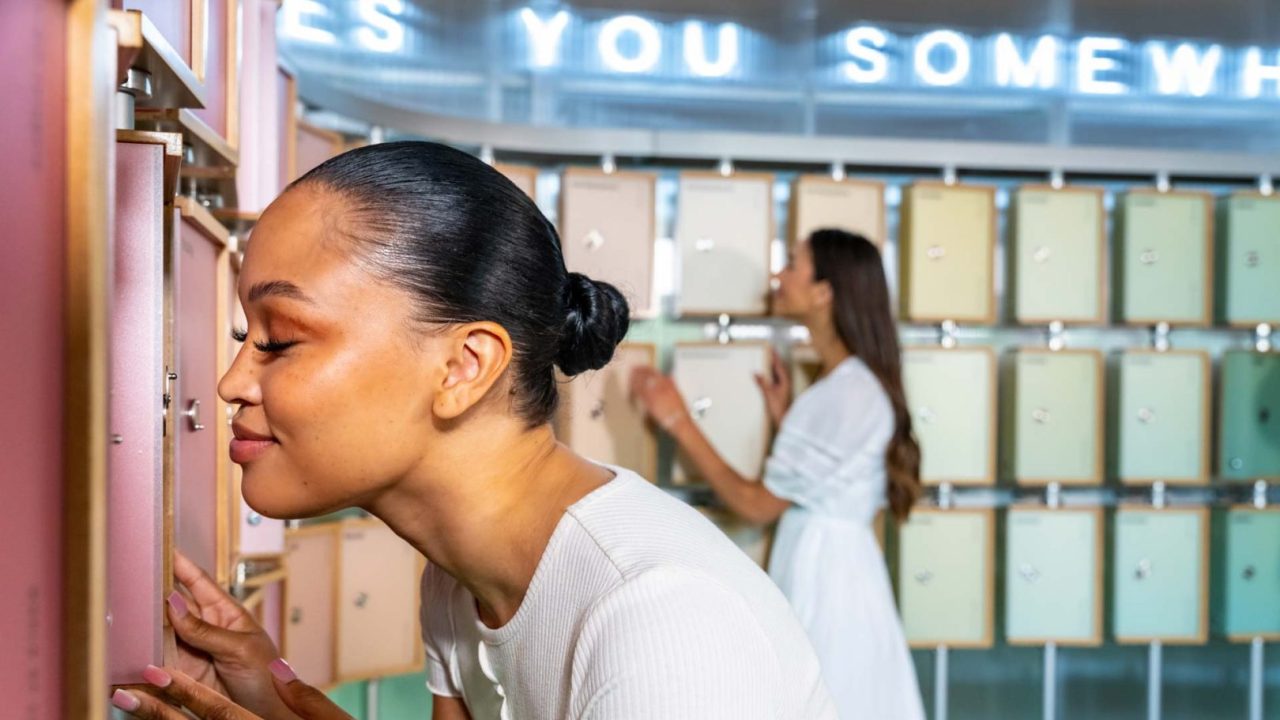 Every Scent Takes You Somewhere
Visitors begin their journey by exploring The Scent Library, an interactive installation featuring scents (both familiar and exotic) from around the globe. As visitors take in each scent and guess its unique origins, their senses are transported to unexpected corners of Coca-Cola's brand history and product line. Each scent is also an opportunity for visitors to unearth olfactory memories from their own lives, inviting them to consider what role scent plays in our personal history.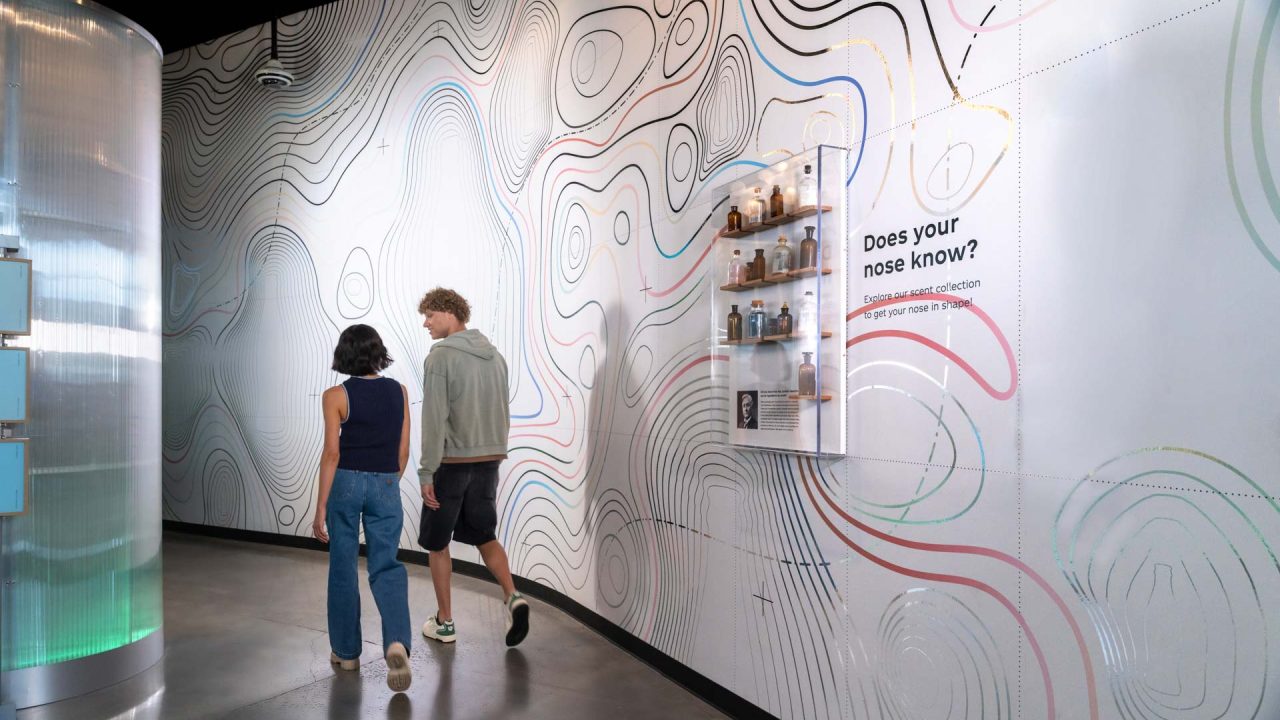 Step Into Coca-Cola History
Arriving in Scent Discovery, guests find out how the "topographies of scent" have played a key role in brand history, starting with Coca-Cola founder Asa Candler. Legend has it that Candler would take the labels off of the ingredient bottles involved in Coca-Cola's secret, formula, and mix ingredients using just his sense of smell–his own topography of scent.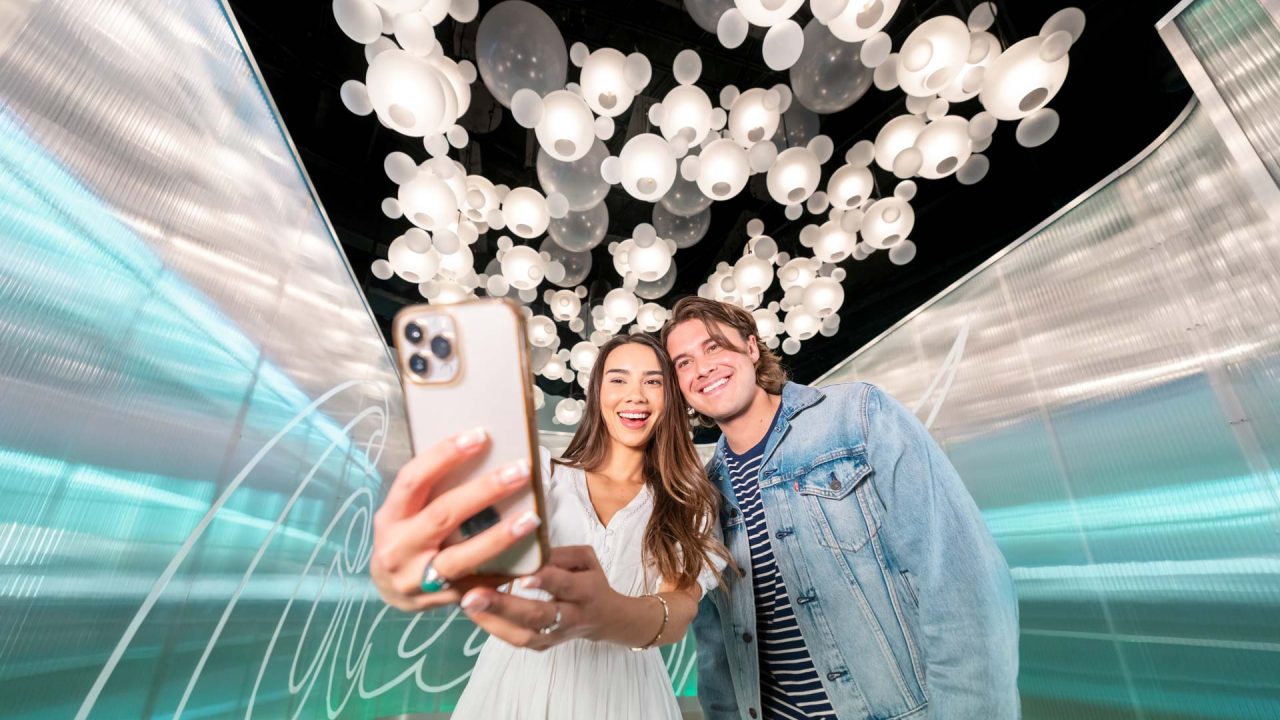 Exploring the Iconic
Visitors are then transported inside the iconic Coca-Cola bottle. Standing within walls that evoke smooth glass and beneath a gleaming chandelier of carbonated bubbles, visitors breathe in the world-famous scent of a freshly opened Coca-Cola. In this way, all the experiential pleasures of drinking a Coke become physical and tangible in the space so that visitors can celebrate them in a surprising new way.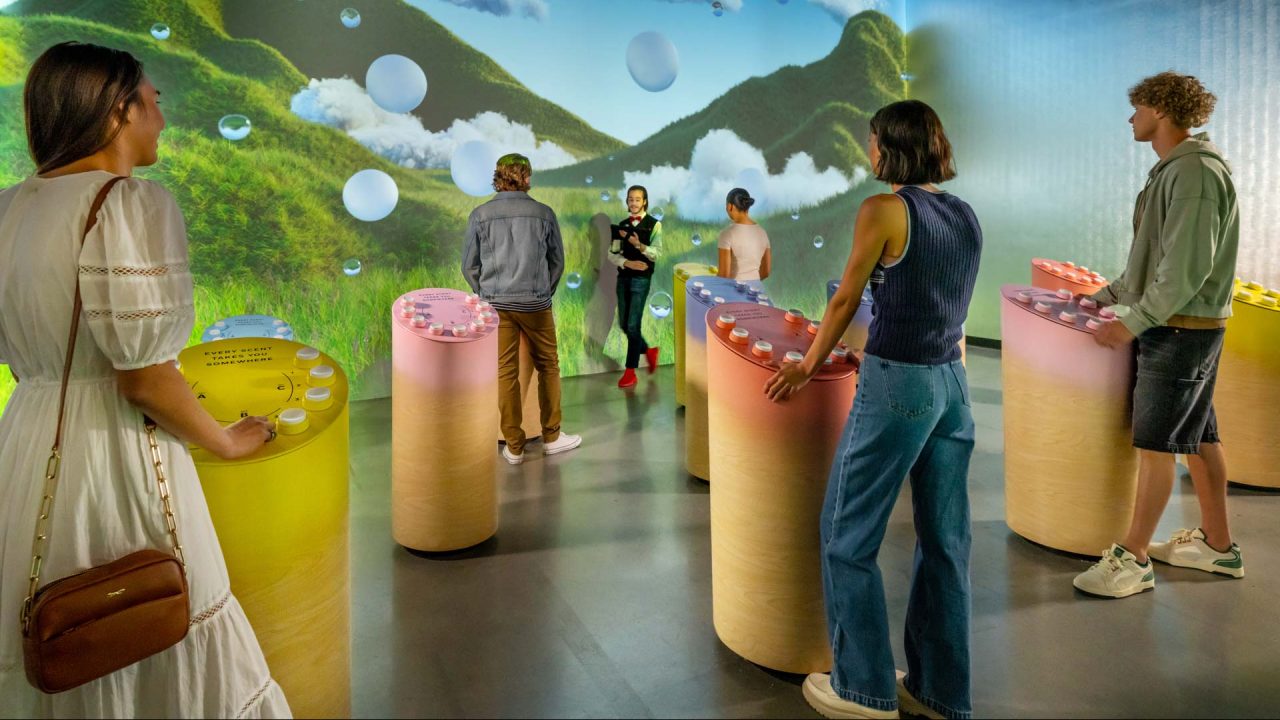 Travel to the Unknown
As the final step in their journey, visitors step into an immersive, gamified experience that invites them to test their newly-evolved senses alongside other visitors. Friends, families, and strangers gather together at interactive gaming stations where they participate in a scent guessing game, guided by a Coca-Cola ambassador. Each correct answer unlocks a vibrant, evocative, and surreal visual landscape that invites visitors to expand their imagination of where scent can transport them in the future.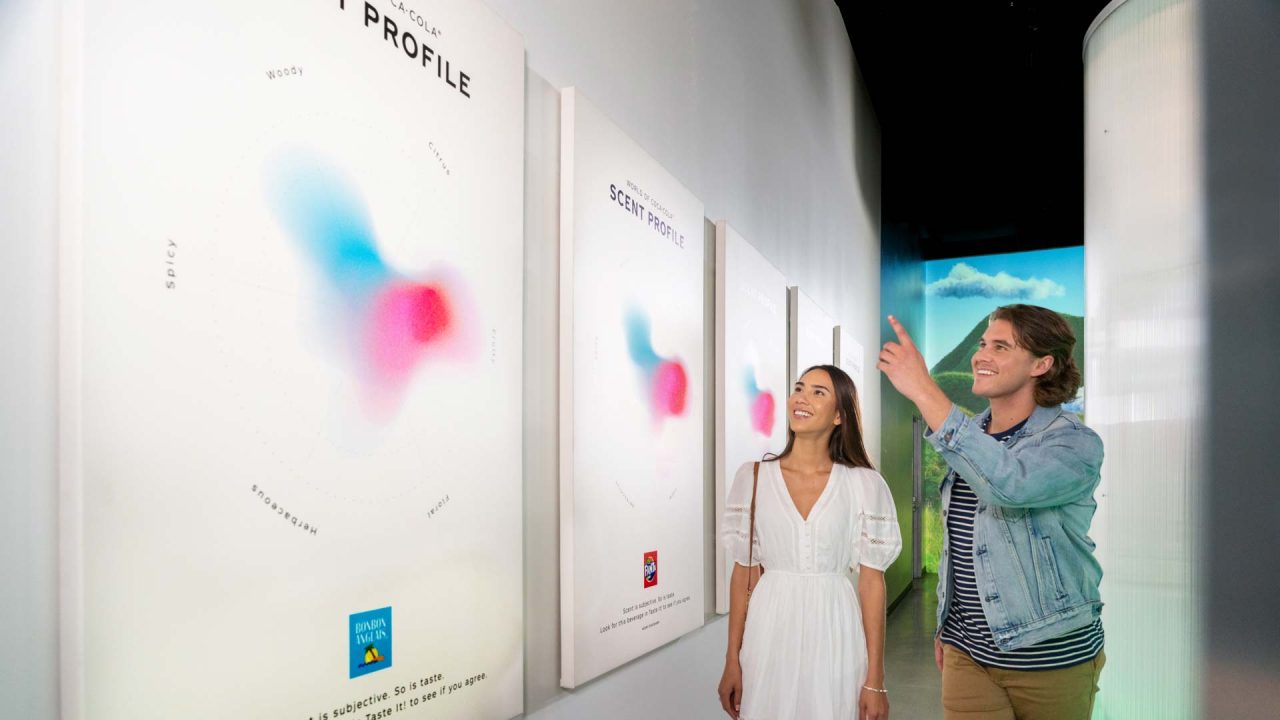 Scent is Only Half of Your Flavor Journey
In the Scent Discovery exit hallway, graphics translate the complex scent profiles of different beverages into elegant gradients. The experience encourages guests to visit the beverage tasting experience in the next gallery, and compare the taste profiles of each beverage to the scent profiles outlined in the Scent Discovery exhibit.
"We know that scent is a powerful trigger for memory and emotion. World of Coca-Cola's Scent Discovery offers guests the opportunity to experience the attraction – and the world – in an entirely new way, to create new scent-based memories, while infusing fresh insight into existing memories and emotions." 
- Michelle Moorehead, Vice President, Global Licensing, Retail and Attractions